01 Present situation of zero liquid discharge of industrial wastewater
The general idea of zero liquid discharge(ZLD) technology is combined process of pretreatment , membrane concentration decrement and evaporation& crystallization.Firstly, most of the pollutants that affect the operation of membrane are removed by pretreatment, then the wastewater is concentrated by membrane, and finally enters the evaporator for evaporation& crystallization which the crystallized solid are carried on bio-safety disposal and eventually meet  
the requirements of ZLD.
At present, the shortcomings of ZLD technology are as follows:
A.Lack of high-deficiency treatment and recovery technology
The recovery rate of the currently used treatment and recovery technology system is around 50%-80%, which cannot meet the requirement of ZLD of industrial wastewater.
B.Lack of overall process design and engineering experience
ZLD projects usually have a long process route, which involves many technologies such as degradation of organic matter, hardness removal, concentrated water concentration, concentrated water evaporation and crystallization technology. These technologies require professional design and a team with rich engineering experience to provide overall solutions which can perfectly combine multiple unit technologies and ensure performance.
C.Higher investment and operating costs for ZLD projects
Due to high investment and operating costs of ZLD projects, the current environmental protection policy does not put forward mandatory regulations on ZLD of wastewater. Currently, only a few companies that have good economic benefits or need to significantly increase production capacity but are limited by total discharge amount have introduced ZLD, most companies take a wait-and-see approach to ZLD technology, so how to reduce investment and operating costs of ZLD projects is also the focus of future research.
02 Our performance on ZLD project 
JIUWU HI-TECH has accumulated a large amount of technical application experience and customer resources in the fields of industrial processes such as biological, pharmaceutical, chemical, food and beverage separation, and industrial water treatment such as pharmaceutical wastewater, chemical wastewater, papermaking wastewater, printing and dyeing wastewater, oilfield reinjection water, etc. especially in recent years, JIUWU HI-TECH has been focusing on ZLD of papermaking, metallurgical and dyeing wastewater and has rich EPC experience in relying on sophisticated and consummate hybrid membrane technology .
JIUWU HI-TECH has also applied for 33 patents in the field of zero liquid discharge wastewater technology, including 7 authorized invention patents, and established a core patent portfolio that includes the development of special membrane materials, waste salt and concentrated salt water recovery technology and key equipment application technologies.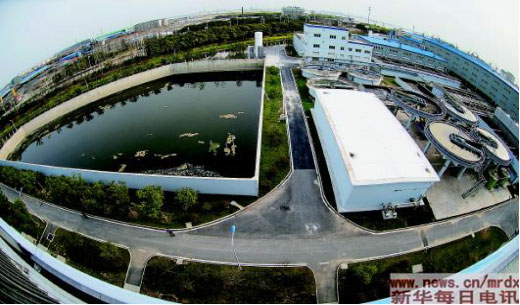 (1)ZLD solution in paper industry 
There has a large amount of wastewater discharge in paper industry, the pollution exceeds that of chemical industry.The production and consumption of paper and paperboard in China have ranked first in the world. The output value of papermaking industry accounts for 1.49% of GDP, but it contributes 26% of COD (chemical oxygen demand) discharge of industrial wastewater.
It's very difficult to treat papermaking wastewater due to complex pollutant composition. Generally, the pollutants are degraded by physicochemical and biochemical methods. Although the effluent can basically meet the discharge standards, which can not meet the requirements of production reuse.
JIUWU HI-TECH finds the solution to major technical difficulties of ZLD of papermaking wastewater has led to the birth of key technology urgently need by the world with the joint of Nanjing Tech University and builds a ZLD demonstration project with the capacity of 40,000 m3/d of pulping and papermaking wastewater. 
The project is located in the Economic and Technological Development Zone of Nantong City. The project adopts a combination of deep pretreatment system ,membrane integrated concentration treatment system ,high-efficiency evaporation & crystallization and other water treatment technologies. The reproduced water of membrane system is used by the enterprises in the zone, and high-concentration water flows into the evaporation&crystallization system, where solid salt is produced for comprehensive utilization.The project can save 20 million tons of water per year, and reduce COD and BOD emissions to 1,500 tons per year and 400 tons per year, and recover 15,000 tons of solid salt per year.
This solution plays an inestimable role in the protection of water resources and water environment in China and even on the world.
(2)ZLD solution in metallurgy industry 
In the hydrometallurgical industry, a large amount of high-salt wastewater containing heavy metals, hydrocarbons, surfactants and other pollutants will be produced during the production process. The wastewater contains a large amount of Na2SO4, NaCl and other salts, of which Na2SO4 content even exceed 10%, with extremely high recovery value.
For the wastewater generated by a metallurgical company in Inner Mongolia, 3000m³/d saline wastewater is reduced through a pretreatment, membrane concentration and evaporation & crystallization system. The concentrated brine is evaporated and crystallized, and the  effluent from membrane integrated system is reused for production.
The project successfully solves the problem of concentrated brine treatment in the production process , and at the same time eases the pressure of the enterprise's water usage, providing ideas for the recovery and decrement of waste brine in the metallurgical industry. The project can save nearly 1 million tons of water per year.
(3)ZLD solution in dyeing industry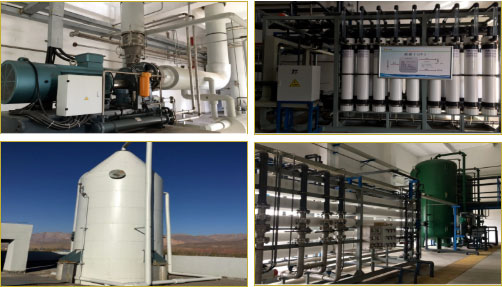 As one of the traditional livelihood industries in China, printing and dyeing industry has always been the lifeblood of national economic development.However, the drainage of the printing and dyeing industry accounts for more than 30% of the total industrial wastewater. Therefore, it is of great significance to improve the advanced treatment and recovery technology of printing and dyeing wastewater to relieve the pressure on water resources in China.
Integrated technology including resin softening, membrane integration technology, and freezing crystallization made by JIUWU HI-TECH is achieved "near-zero liquid discharge" of wastewater. The salt obtained is thenardite, and recovery of wastewater and waste salt is realized.
For the concentrated brine rich in organic matter produced by a printing and dyeing textile company in Jiangsu,the wastewater is concentrated by 70-80 times through pretreatment, membrane integration process and coupled freezing crystallization, and then high-purity sodium sulfate product (up to first-class Quality) and industrial water meeting the production requirements is obtained, and the recovery is realized. The project alleviates the pressure of water consumption for enterprises, and provides ideas for the recovery of concentrated brine in printing and dyeing textile industry.

03Outlook
With the development of China's economy and society, people's living standard has been improved day by day. Papermaking, metallurgy, printing and dyeing industries, which are closely related to people's life, have also developed vigorously in recent years. However, these industries have increased economic and social benefits, and the total amount of industrial wastewater discharge has increased year by year, which has brought great technical challenges to the current wastewater treatment and recycling.However, while these industries improve economic and social benefits, the total amount of industrial wastewater discharge is also increasing year by year, which brings huge technical challenges to the current wastewater treatment and recycling.
Faced with the increasing shortage of resources and the deteriorating environment, more and more companies have realized the importance of following the principles of "reduce, reuse, and recycling in the circular economy during industrial production ,begin to seek to recycle the waste water and salt and finally achieve "zero liquid discharge" of the enterprise's pollutants.
But for most companies to truly achieve ZLD, in addition to investing a lot of environmental protection funds themselves, they must also have the support of advanced ZLD technology. Based on this, JIUWU HI-TECH has invested a lot of manpower and material resources to develop a variety of advanced and advanced ZLD coupling technologies for industrial wastewater treatment through technological innovation and technological iteration, which offer the customization service what the companies need recovery the waste water and salt.  
JIUWU HI-TECH will, as always, pursue the development concept of "green water and green mountain is Jinshan and Yinshan", constantly break through the ZLD technical bottleneck of industrial wastewater, and contribute to the formation of a new pattern of "harmonious development of man and nature".