WHAT IS BLACK ODOR WATER BODY
Black-odor water body is a body of water that has lost its ecological function. The odorous black water is a phenomenon in which water turns black and emits odorous gas. It is a serious phenomenon among environmental pollution, and it severely threats the sustainable development of society and survival of mankind. And the urban odorous black water remarkably influence urban landscape, daily life of citizens.

WHAT IS THE INFLUENCING FACTOR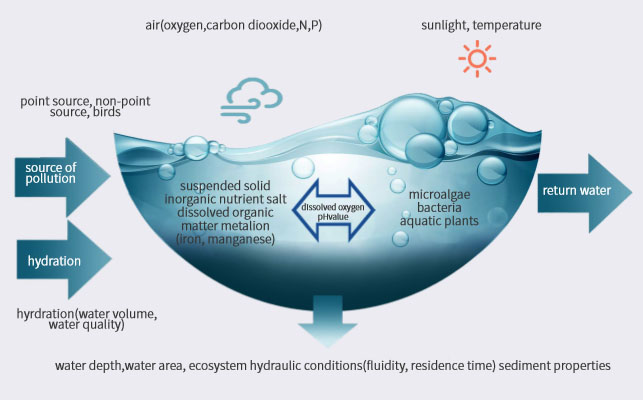 SOURCE OF POLLUTION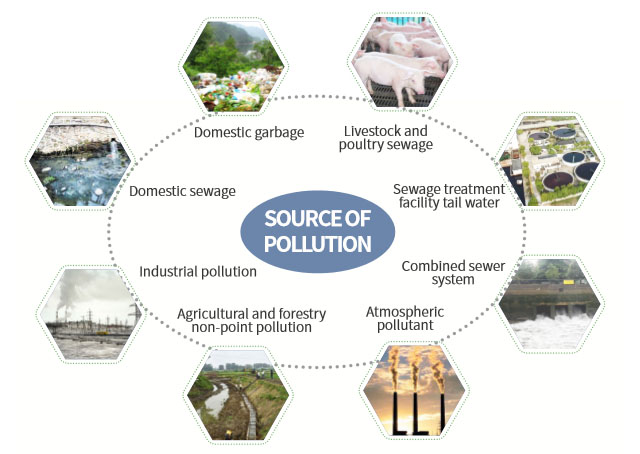 The organic substances that cause black odorous water pollution are mainly composed of C, H, O, N, P, S and other elements, and their composition is particularly complicated. black and odorous water pollution mainly comes from the direct discharge of domestic sewage, the littering of garbage, and the smuggling of industrial wastewater. Excessive pollution results in the imbalance of oxygen supply and oxygen consumption in the water body. The water body is under oxygen and even anaerobic conditions convert pollutants and produce odorous substances such as ammonia nitrogen, hydrogen sulfide, volatile organic acids, and black substances such as iron and manganese sulfide.
Pollution Degree Classification

Characteristic index

Mild black odor

Severe black odor

transparency (cm)

25-10

<10

DO (mg/L)

0.2-2.0

<0.2

ORP(mV)

-200-50

<-200

NH3-N(mg/L)

8.0-15

>15

Note: When the water depth is less than 25cm, the transparency is 40% of the water depth.
INDEPENDENT PATENT TECHNOLOGY
The bio-purifier for river & lake is a bioremediation system developed by our company for the efficient purification of black odor water and surface water worse than Grade V, which integrates technical characteristics of various river water bioremediation and has a number of research and development patents.

Bio-purifier adopts bio-contact oxidation biomembrane process which combines in-situ microbial activation with special microorganism to form a high-efficiency biomembrane.
Bio-purifier integrates aerobic reoxygenation, hydrolysis acidification, anaerobic treatment, aerobic treatment and other biochemicals.
Bio-purifier has the ability of continuous digestion of water pollutants, gradual improvement of water quality and improvement of water self-purification ability.
CHARACTERISTICS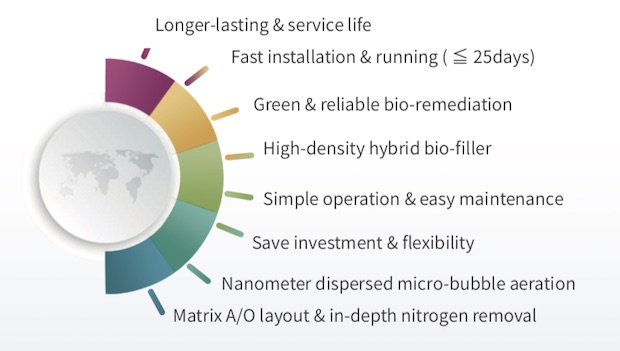 PURIFICATION PRINCIPLE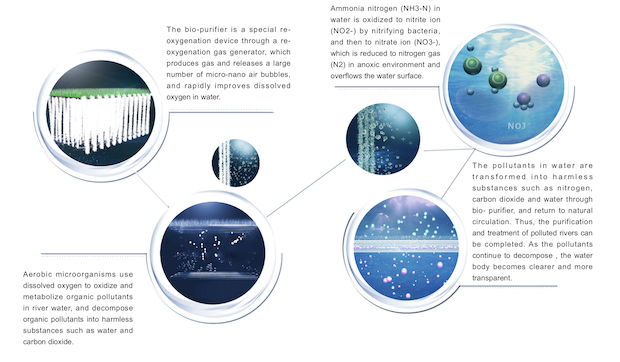 TREATMENT PROCESSES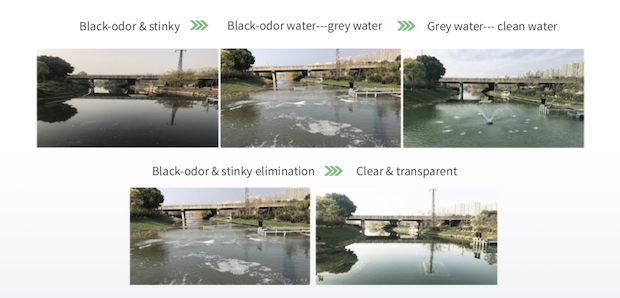 WATER QUALITY BEFORE TREATMENT


WATER QUALITY AFTER TREATMENT


CASES OF WATER TREATMENT
20,000 tons/day black odor water remediation project,China
black odour water treatment in Suzhou Development Zone,China
black odor water treatment in Xiaoxian,China
black odor water treatment in Tangshanliming,China
Xiaoxian Daihu Lake Water quality Improvement Project,China
Three Rivers Regulation Project in Pukou District,China