Pharmaceutical Wastewater treatment
Pharmaceutical wastewater mainly includes antibiotic production wastewater, synthetic drug production wastewater, Chinese patent medicine production wastewater, and washing water and washing wastewater in various preparation processes. The wastewater is characterized by complex composition, high organic content, high toxicity, high chroma content, high biodegradability, and intermittent discharge, which is an industrial wastewater that is difficult to treat. With the development of the pharmaceutical industry, pharmaceutical wastewater has gradually become an important source of pollution.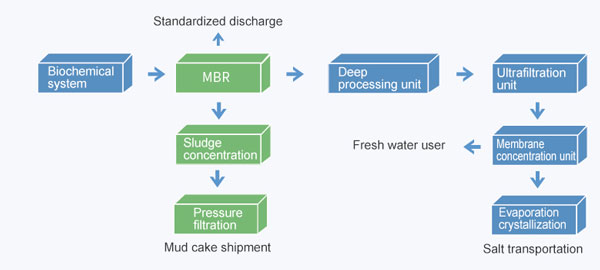 By the combination technology of biochemical treatment + advanced treatment + membrane separation + evaporation, pharmaceutical wastewater could be treated as zero liquid discharge. According to the requirement of customers, it could meet the different requirements for standardized discharge and zero liquid discharge. This process is greatly reducing the amount of water, the amount of solid waste and secondary pollution. Tons of water treatment costs: RMB 5-7 yuan.
Chemical industry wastewater
Chemical industry wastewater has the characteristics of toxicity and irritancy, high organic matter concentration, unstable pH, more difficult biodegradable substances and higher hardness. Conventional chemical industry wastewater treatment mainly includes coagulation-sedimentation, biochemical treatment unit, sedimentation (disinfection), and final discharge. Reducing the emission of pollutants and improving the utilization of water resources are the trend of water reuse.

The machine pool mainly removes calcium and magnesium ions from the water to reduce the hardness of the water, and at the same time reduces the alkalinity and suspended matter. Pre-treating water is for meeting the influent water quality requirements of the membrane and reducing the frequency of fouling and block, improving the efficiency of the
ceramic membrane system
. The effluent after pretreatment + double membrane treatment can fully meet the requirements of product water. It can be used for sewage water treatment, which reduces the discharge of sewage, and achieve the purpose of water scouring. Tons of water running costs: RMB 2.5-4 yuan.