Primary Brine Purification

Ceramic Membrane Brine Purification Solution (hereinafter called CBS Process) is a well- proven process for brine water treatment, which can guarantee to offer high quality, stable and reliable primary brine for a long-term and is also an advanced process option for chlor-alkali companies.
CBS combines the characteristics of inorganic materials and the use of efficient "cross-flow" filtration which has greater advantages over other purification technologies.
CBS process can also be used for bittern vacuum salt making and the quality of solid salt produced is higher than that of clarification process which can be used as high-quality edible salt or chloralkali salt. This process involves salt water filters and salt water purifiers for salt water filtration, salt water purification and salt water desalination.


Process characteristics:

HIGH-QUALITY PRIMARY BRINE
SS≤0.5ppm, [Ca2 +] + [Mg2 +] ≤0.5ppm
WITHOUT ANY FLOCCULANTS
Reduce costs and no additional ionic contamination;
SMALL FOOTPRINT
New projects can reduce more than 30% investment in primary brine;
WITHOUT ANY LIMITATION FOR RAW SALT
Suitable for raw salt with inverted calcium and magnesium ratio
Also applies to sea salt;
LONG SERVICE LIFE, HIGH STRENGTH, EASY TO CLEAN, EASY TO REGENERATE
Durable, easy to maintain
FILTRATION PORE SIZE: 50 NM
Lower pore size than the smallest filter paper(200 nm) in your analysis chamber
Process advantages :

Compared with the traditional process, CBS eliminates the need of clarifier, sand filter & pre-coated cellulose filter tube and cleaning & pre-coating workload and avoids the secondary pollution of silicon.
Compared with organic polymer membrane, CBS not only eliminates the need of process and equipment of pretreatment system, flotation with pressurized dissoluble gas and floated clarification but also eliminates the need of corrosive, harmful chemicals such as ferric chloride which reduces the corrosion damage of system equipment and piping, completely avoids the secondary pollution of primary brine.
High-quality, high-strength inorganic ceramic membrane can work long-term under the pressure of 1MPa without affecting by acid, alkali, oxidants, etc.
Ceramic membrane
surface does not have any possibility to occur the phenomena of tearing, corrosion, aperture stretch ,but organic polymer membrane surface does. The service life of ceramic membrane tube is up to 5years.
The filtration pore size is less than 50nm. The simple screening principle can make the SS of the filtered brine less than 0.5ppm, greatly reducing the load of the chelating resin tower and the pollution of the ion membrane.
CBS process adapts to high magnesium raw salt. Ceramic membrane has excellent anti-pollution ability, and works at a high concentration of contaminants (5 to 10%) with full use of "cross-flow" filtration, eliminates defects which filtered membrane is not tolerant to high magnesium and organics in a dead-end filtration mode and reduces the quality requirements of crude salt, broadens the scope of salt selection.
Because of short process, less equipment, simple process control and simple operation, installation and construction area can be greatly reduced compared with other primary brine technologies. The technology is easy to combine with the traditional process, especially for the old device reconstruction project.
Nanofiltration Systems Sulfate Removal
Membrane filtration principle
Ceramic membrane filtration
technology is based on a selective filtration through a pressure -driven membrane. The membrane has charged groups that selectively reject multivalent anions such as SO42-. The membrane does not separate monovalent ionic species such as Cl- or CLO3- from the feed solution.
To maximize the membrane area within a compact space, the membranes are packaged as cylindrical elements in a spiral wound configuration.
Feed brine floods the entire feed side of the membrane surface within the membrane element by flowing within a mesh spacer. Brine then permeates through the membrane, where the sulfate is rejected, and flows in a spiral pattern through the permeate carrier, towards the perforated permeate tube.
To achieve the required membrane area, several
ceramic membrane elements
are packed into several high-pressure housing. The high-pressure housings are arranged in series to provide the required number of stages to concentrate the sodium Sulphate solution.
The membrane filtration unit usually treats dechlorinated depleted brine from the chlor-alkali electrolyzer. It is at this location that the Na2SO4 concentration is at its highest and the NaCl concentration is at its lowest. Normally only a portion of the dechlorinated brine flow needs to be passed through the Sulphate removal system, the remainder bypasses the Sulphate remove system and is returned to the saturators.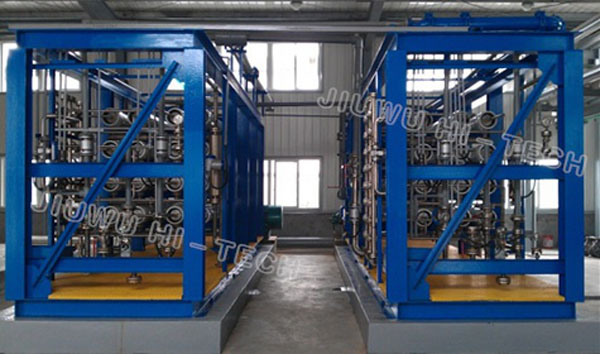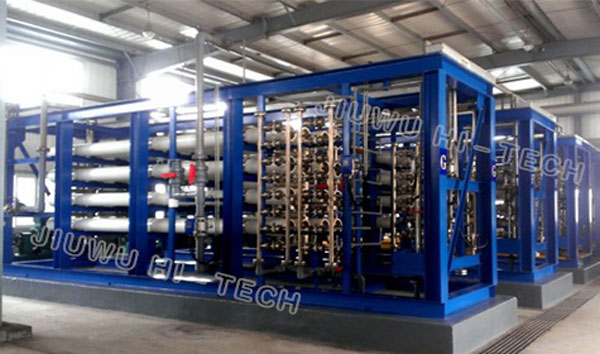 Features:

1. Reduced purge of depleted brine
Substantial costs saving due to less NaCl loss
More Environmental friendly, less effluent
2. No secondary pollution
No need to use BaCl2 reagent which is toxic
No Barium treatment cost
No solid BaSO4 waste
3. No secondary pollution
Lower operating costs
Reduces effluent volume
Full recovery of sulfate and sodium chloride
Proven technology with many references